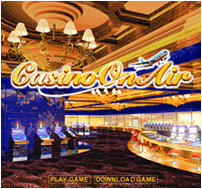 Casino On Air Lite (5MB).




STEP 1
DOWNLOAD CASINO ON AIR SOFTWARE

Casino On Air Lite (5MB).

Casino On Air Adult Lite (5MB).

For Windows-3.1/95/98/NT

STEP 2
CREATE A NEW ACCOUNT

Once you have downloaded the software double-click on the CASINO ON AIR Icon. There is no need to open any browser.

Now select the game mode - Play For Real or Play For Fun. Then choose if you are a new user or a registered user. Choose New User to create a new account.

STEP 3
CREDIT YOUR ACCOUNT

Once you have registered you need to deposit money into your account. Click on the "MONEY" button and then click on "DEPOSIT" to credit your account.

You are now ready to start gambling with Casino On Air. Have Fun!

Casino On Air Adult Lite (5MB).



In order to play, you must have Direct X installed on your computer. Click Here to download Direct X.



SYSTEM REQUIREMENTS:
Direct X Software. Most computers have Direct X pre-installed. If you do not have it click here. ** You must have Direct X installed in order to play.
A modem with 14.4 KB connection speed
A 32-bit operating system (Windows 95, or Windows NT)
A 486/66 microprocessor
8 Megabytes of RAM
30 Megabytes of free hard drive space
High Color (16 bit) Video Card