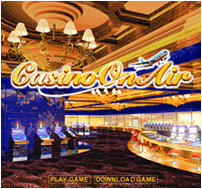 Casino On Air Lite (5MB).


Please, left-click the image or link to download the program.



3 EASY STEPS TO START GAMBLING.


STEP 1
DOWNLOAD CASINO ON AIR SOFTWARE

Casino On Air Lite (5MB).

Casino On Air Adult Lite (5MB).

For Windows-3.1/95/98/NT

STEP 2
CREATE A NEW ACCOUNT

Once you have downloaded the software double-click on the CASINO ON AIR Icon. There is no need to open any browser.

Now select the game mode - Play For Real or Play For Fun. Then choose if you are a new user or a registered user. Choose New User to create a new account.

STEP 3
CREDIT YOUR ACCOUNT

Once you have registered you need to deposit money into your account. Click on the "MONEY" button and then click on "DEPOSIT" to credit your account.

Note: The free 10% bonus on your initial deposit can not be cashed out until you have wagered an amount equal to the 10% bonus.

You are now ready to start gambling with Casino On Air. Have Fun!


Casino On Air Adult Lite (5MB).



In order to play, you must have Direct X installed on your computer. Click Here to download Direct X.



SYSTEM REQUIREMENTS:
Direct X Software. Most computers have Direct X pre-installed. If you do not have it click here. ** You must have Direct X installed in order to play.
A modem with 14.4 KB connection speed
A 32-bit operating system (Windows 95, or Windows NT)
A 486/66 microprocessor
8 Megabytes of RAM
30 Megabytes of free hard drive space
High Color (16 bit) Video Card